5 Productivity Hacks to Help Remote Workers
Do you love working remotely or at home? If so, you've probably learned there are some major pros and cons that come with the territory. Managing your time efficiently is probably the most important — yet challenging — aspect of remote work. But it can be tackled.
Whether you've just begun easing into remote work or you've been working at home for a while, figuring out how to work well remotely impacts your work success and your team's success. Here's a list of five productivity hacks to introduce into your work-from-home days:
1. Create a Workspace
If there's nothing better to you than setting your workspace wherever you please on any given workday, you'll still need some resemblance of a "workspace" wherever you are. If you're constantly moving workspaces in your home, you're likely to lose important items and feel disorganized. Instead of switching between the couch, kitchen table, and desk, create a dedicated workspace. A few tips on how to do it:
Select your room or area – You don't need an actual office in order to work from home.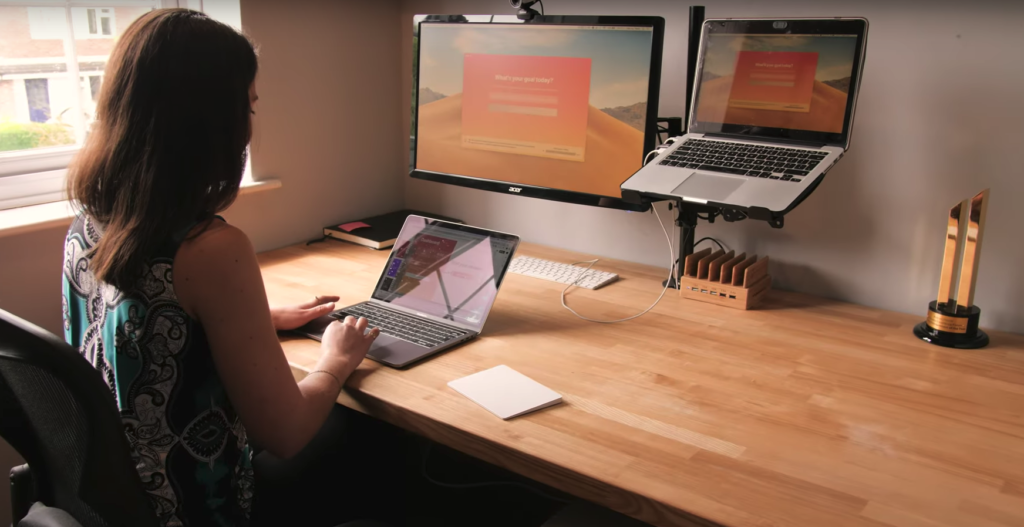 It can be a small card table in the corner of your living room. Just decide where you're going to work so you can get all the supplies you need to fit the space.
Pick the most productive space – Pick a place with the least amount of distractions that you can also make comfortable.
Change it up – One of the joys of remote working is you don't have to stay at home every day. A place outside of the home like a co-working space or cafe can be a lovely change of scenery that encourages creativity. But, plan out your week and make sure you have what you need to get the work done ahead of time so you're not wasting time tracking things down.
Keep important items filed away – If you move around, make sure you have a central filing cabinet or another storage area to keep track of paperwork and receipts for business-related expenses.
Productivity mindset shift: Staying organized is a must if you bounce between a corporate office and your home office. Create a single area in your home to keep your work items organized for quick access and increased productivity. Add some items that personalise it — like family photos or a diffuser — to make it a warm space, too.
2. Set Boundaries
Perhaps one of the most important aspects of remote working is setting appropriate boundaries with your clients, co-workers, friends, and family members. While it may appear to them that you're just lounging about at home, setting down a firm understanding that you're working can minimise their need to distract you.
How to set boundaries:
Working from home means you're working – Let your friends and family know your work hours and that you're not available during those times.
Schedule breaks – Allow permission to take breaks throughout the day to refresh your body and brain to boost your productivity. Even a five-minute walk can boost your well-being, according to a Psychology Today report.
Minimise break distractions – Silence your phone, block alerts, etc. that might otherwise keep you on a longer-than-necessary break. Set a timer for your break, if needed.
Stop working at a set time – Once you set a time, you know how long you have to get daily tasks done. It will put some healthy pressure on you to get it all done and meet your deadline. Set a meeting with a friend or other activity shortly after work. It will inspire you to work efficiently.
Productivity mindset shift: Working from home doesn't mean you're available 24/7 for meetings, calls, or texts. Set your working hours and respect them. Then others will, too.
3. Communicate Well
When you're not working in an office or directly with someone, it's important to ensure you understand all of the project aspects. You also won't have somebody standing over your shoulder making sure you're doing work, so it's important to make sure you stay on task.
Before starting a new project or task make sure you fully understand:
The deliverables
The deadline
The milestones and due dates
Contact persons, contact info.
Project delivery methods
Best times/platforms for communication
Productivity mindset shift: Ask questions and seek clarification, especially when starting a project with someone new. It's better to take the time to ask and get it right rather than do it multiple times down the road. Keep team members and clients in the loop regarding project delays, wins, schedules, etc. Keeping everyone on the same page keeps things running smoothly and efficiently.
4. Schedule Your Day
One of the benefits of working remotely is control over your schedule. To maximise the benefit of this, schedule your work during the times when you are most productive. Using a day planner and mapping out your time can be helpful in planning around life events and other obligations.

A few considerations:
Are you a morning person? Get up early and get the most difficult tasks out of the way first thing. More of a night-owl? Plan your most important work in the evenings.
Working around a family? Plan to be super focused when kids are at school, taking naps, or after bedtime. Time blocking and to-do lists can be helpful for this when you have limited time to meet project deadlines.
Productivity mindset shift: While you may have meetings and call times that you can't control, try to plan to work when you know you'll get the most done. Creating sessions of time where you work on the same task for a set period of time before breaking. Serene can help you with this by breaking down your daily goal into specific sessions for focused, deep work without distractions.
5. Create Processes
If you pay close enough attention, there are tasks you'll do repeatedly throughout a single workday. When you realise what these tasks are, put a process in place to make them less time-consuming. When you create processes that can incorporate automation, you'll find it's more efficient, even if it takes some time for initial set-up.

For example:
Onboarding new clients – Have a checklist, contract template, and welcome packet saved on your desktop and in a cloud.
Paying bills – Set a certain day or time to pay. Or, set up an autopay option.
Communicating with co-workers – Only review and reply to emails and other messages at certain times each day.
Preparing for the next day or week – To-do lists and other tracking activities can cut into working hours. Plan ahead and do these before jumping into focused work to keep your working hours free.
Cut down in other areas, too – Consider processes for daily and weekly tasks like meal prep, laundry, and grocery shopping. Apps and to-do lists can keep these organized as you think of items or tasks to add.
Productivity mindset shift: Create what works for you. There are many ways to create processes in multiple areas of your life. While it isn't fool-proof, you'll find the tasks you used to do manually that can be automated will save you from needing to do it from start-to-finish each time.
Productivity Hacks, Help
Remote work is great for allowing you freedom in both your personal and professional life. But if you're not careful, productivity levels can slip quickly and create a large stockpile of work.
That's why these productivity hacks are so useful. Use which ones work best for you. Trial and error is the name of the game, especially if you're new to remote working.
A few more productivity tips:
Show up for yourself – Get dressed daily like you're actually going into an office. It will keep you in a professional work mindset.
Move your body – When you don't have co-workers asking you to go out for a tea run or the boss asking you to step into their office, it's easy to stay planted in your seat all day without breaking. Plan for workouts, daily walks, and stretching routines into your day.
Use productivity tools – Project management tools like Trello or Asana can help you stay connected with your team. To-do lists and planning apps can also help you keep your focus for those crazy busy workdays.
Without a doubt, remote work is becoming more the norm. In fact, the Office of National Statistics (ONS) believes that 50% of UK employees will be working remotely by next year. What's more, up to 90% of staff say they'd like to work remotely at least part-time.
If your office hasn't turned to remote work yet, in the future, it may very well do so. Being prepared with remote work productivity hacks can certainly make the transition much easier.
When you're intentional with your daily routines as a remote worker, you're more likely to get every task or project completed on time. You just have to know how to "hack" your brain and find what processes and procedures make the most sense for your working style.
If you can keep a daily routine for your remote working schedule, you'll discover success much faster and enjoy the remote working life a whole lot more.
Need the entire team to focus to nail deadline? Help your team isolate distractions quicker and work smarter every day. Sign up here to join the Serene Teams Beta waiting list for the latest updates on our team platform.